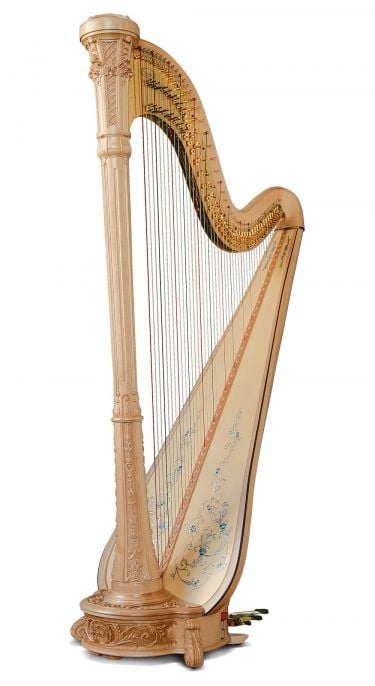 SALVI IRIS - NATURAL 47 String Pedal Harp
Art, music, design, research, summing up a perfect harmony in the Iris Natural. The finesse of the sculpture enhances the natural beauty of the wood and gives style and personality to this harp. Beauty is combined with excellent performance. The tonal richness and extraordinary sound projection make it the ideal harp for soloists and orchestras.
Technical Information:
Height: 187cm
Width: 100cm
Weight: 39 KG (86.Ib)
Soundboard Width: 55cm
Range: 47 Strings - 0 Oct G - 7th Oct C
Standard Gauge Pedal Gut Strings
Soundboard: Fiemme Valley Red Spruce
Supplied with: Indoor Cover, Tuning Key, String Cutters, Spare Pedal Caps & Leather Toole Bag
Manufacturers Warranty: 5 Years
Exclusive to The Harp Studio - Half Price Service Voucher Valid 1 Year from Date of Purchase
Reccomended Extras:
Full Set of Padded Transport Covers
Trolley - 2 Wheel
Trolley - 6 Wheel Stairclimber
Below are Examples of the Standard Finishes Available on the Salvi Iris Natural.
Special Orders are Avaiable and are subject to a Deposit. Additional Charges Apply